Recently GLO and Includovate joined forces, including vice-versa the set of institutional supporters. On this occasion, Kristie Drucza, the CEO of Includovate gave an interview to reveal mission and objectives of the organization. More information.
Dr. Kristie Drucza, CEO of Includovate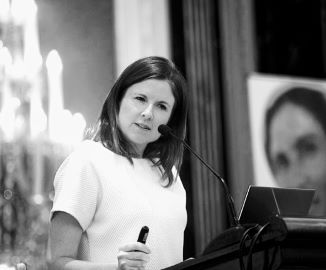 With over 17-years of experience as a community developer, gender and inclusion adviser, or researcher, Kristie Drucza is theoretically strong on gender, human rights/child rights, and social inclusion, particularly within a developing country context.
She completed her PhD in Political Anthropology on social inclusion and has a Master's in Applied Anthropology and Participatory Development specializing in gender and has a passion for building partnerships and capacity for systems change around social inclusion.
Her passion for applied research and social inclusion has driven her education, her career, and the launch of Includovate.
Throughout her varied career, she has conducted 12+ mixed-method evaluation projects for major donor country programs, including UNICEF and the UN.
She has built a reputation for innovative, participatory data collection methods with stakeholders of all types, e.g., people with disabilities, NGO and government officials, youth, the private sector, and women.
As founder and CEO of Includovate, she has been both the administrative and research team lead of 10 experts to deliver various assignments for the International Labour Organization, World Bank, Care International, WorldFish, International Rice Research Institute, and the International Water Management Institute.
For Dr. Drucza's publications see: Dr. Kristie Drucza Researchgate Profile
Interview

GLO: Explain to us your core mission.

Kristie Drucza: Includovate is a feminist research incubator that 'walks the talk'. We decolonize research by employing researchers who have a lived experience of the topic being studied (this includes people living with disabilities and people from diverse religious and ethnic backgrounds). Includovate's mission is to incubate transformative and inclusive solutions for measuring, studying and changing discriminatory norms that lead to poverty, inequality and injustice. Following the meaning of our name, which is to innovate for inclusion, Includovate empowers researchers to co-create knowledge and make it more inclusive and sustainable.

GLO: What are core topics you intend to work on?

Kristie Drucza: Includovate studies and designs solutions for gender equality and social inclusion in close alignment with the UN's Sustainable Development Goals. We usually conduct research in low- or middle- income countries and adopt an inclusive and empowering approach to the way we study and analyze. Poverty alleviation, social inclusion and protection, social policy and power relations, gender equality, disability and youth inclusion, behavior change and social norms, and migration and climate change are among our favorite research topics.

GLO: Are you a new global think tank with employed staff or a network of researchers?

Kristie Drucza: We are a certified social enterprise that consists of a network of researchers and employed staff who peer support one another to improve inclusive research capacity.
Includovate was established in early 2019 as a self-sustaining incubator to change the way inequality and exclusion are reproduced through research and data analysis.
Privileged researchers complete paid research assignments while helping to build the capacity of researchers from the global south that lack exposure to international opportunities.
We have a social licence business model where the office in Australia helps to grow the office in Ethiopia. We have doubled in size at the start of 2020 to more than 40 employees. We have employed staff working globally and have access to a network of more than 700 registered consultants.

GLO: You are 100% female-owned, accident or program?

Kristie Drucza: The Ethiopian firm is owned by Ethiopian women and the Australian women who own the Australian Includovate help the Ethiopian firm to grow in a co-created sister-supported style.
We specialize in women's empowerment and a feminist approach to research for international development. We deliver best practices curation and truly deep dive into the intersectionality of inequality and exclusion. Not only that, 62% of Includovate employees are women as we hire through diverse mechanisms. Our work on women is accredited to the several feminist researchers we have who have worked on projects with UNIDO on the Economic Empowerment of women in the Green Industry, and a Policy Mapping with IDRC on Women's Economic Empowerment, among others.

GLO: You are headquartered in Ethiopia and Australia. Is this a regional focus to meet the largest needs of your program?

Kristie Drucza: Includovate works globally. Once the Ethiopian office is more independent, Includovate's next goal is to open another office in Uganda by the end of 2022. We do have a regional focus on the Global South – however, are country agnostic as we feel the work in the development sector is needed across the globe!

GLO: How relevant is a physical presence at post-Covid times?

Kristie Drucza: Includovate has researchers and employees worldwide, and most of our communications are virtual (before and after the pandemic). Includovate recently re-opened our office in Ethiopia after a staff survey indicated an office was needed. Health and safety protocols are applied in the office and there is a roster for when people use the office. Every other Includovator works remotely.

GLO: You seem to have a strategic interest in Africa. Where do you see the major challenges and potentials to support development?

Kristie Drucza: We do have a strategic interest in Africa because the colonial legacy and power inequities are entrenched. The discrimination faced by African researchers is more pronounced than in other continents. This means that aside from language and analytical capacity, Includovate needs to deal with cross-cultural challenges, insecurities and the legacy of racism. We have to create an incubator that can develop the whole person (not just research outputs). Privileged researchers have as much work to do on themselves as those from Africa.
Includovate's vision is to create inclusive markets, businesses, states and institutions that provide men and women with the power, aspiration and ability to innovate for their development and advancement. By doing this, Includovate would like to decolonize research by supporting, and empowering, researchers from the Global South to publish and use the evidence to shape the policies in their countries.
A major challenges is that we want to pay enumerators (those who collect data) a fair wage, but NGOs and other development actors employ a 'value for money' agenda that involves 'a race to the bottom' whereby budgets are cut until it is hard to maintain research ethics and quality and a decent wage. If we are able to secure funding we would develop a certification for enumerators that ensures safety and quality of researchers and the data collected. The whole research for the development sector needs to improve in standards.
Includovate has a highly ambitious agenda and thankfully, we have the passion and people to deliver systems change for inclusive research for development.

*************
With Kristie Drucza spoke Klaus F. Zimmermann, GLO President.
Ends;