The paper studies the ineffectiveness of the policy in curtailing unauthorized migration and its humanitarian consequences.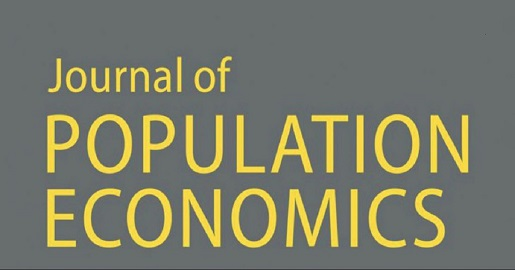 Amuedo-Dorantes, C., Bucheli, J.R.: Implications of restrictive asylum policies: evidence from metering along the U.S.-Mexico Border.
Journal of Population Economics (March 2023). Free to read: https://rdcu.be/datCE
https://doi.org/10.1007/s00148-023-00949-x
Handling JOPE Editor: Shuaizhang Feng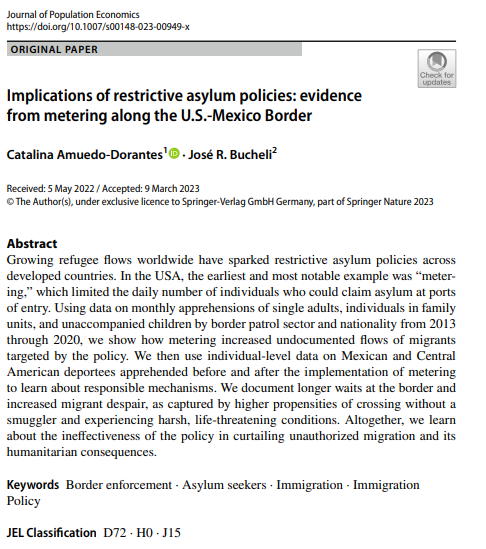 JOPE has CiteScore 6.5 (2021, LINK) & Impact Factor 4.7 (2021, LINK)
Vol. 36, Issue 2, April 2023: Journal of Population Economics (JOPE) 16 articles.
https://link.springer.com/journal/148/volumes-and-issues/36-2
Papers will be presented at the online
JOPE Spring Conference on April 27, 2023. Registration details.
Just published online:
Hwang, J., Kim, S.K.: Unexpected longevity, intergenerational policies, and fertility.
Journal of Population Economics (March 2023). OPEN ACCESS.
https://doi.org/10.1007/s00148-023-00943-3
Zhang, X., Zhang, X., Liu, Y. et al.: The morbidity costs of air pollution through the Lens of Health Spending in China.
Journal of Population Economics (March 2023).
https://doi.org/10.1007/s00148-023-00948-y
Link to free read: https://rdcu.be/c9ezp
Schön, M.: Demographic change and the rate of return in pay-as-you-go pension systems.
Journal of Population Economics (March 2023). OPEN ACCESS.
https://doi.org/10.1007/s00148-023-00938-0
Huang, C., Li, C., Liu, F. et al.: Vaccination and risky behaviors: evidence from the hepatitis B vaccination campaign in China. Journal of Population Economics (March 2023).
https://doi.org/10.1007/s00148-023-00942-4
Link to free read: https://rdcu.be/c88yM
Congdon Fors, H., Lindskog, A.: Son preference and education inequalities in India: the role of gender-biased fertility strategies and preferential treatment of boys. Journal of Population Economics (February 2023).
https://doi.org/10.1007/s00148-023-00941-5
OPEN ACCESS
Casarico, A., Del Rey, E. & Silva, J.I.: Child care costs, household liquidity constraints, and gender inequality. Journal of Population Economics (February 2023).
https://doi.org/10.1007/s00148-023-00936-2
OPEN ACCESS
Casarico, A., Lattanzio, S.: Behind the child penalty: understanding what contributes to the labour market costs of motherhood. Journal of Population Economics (February 2023).
https://doi.org/10.1007/s00148-023-00937-1
Link to free read: https://rdcu.be/c5ZFr
Ends;