The paper finds evidence that children of young mothers are shorter for their age, with stronger effects for girls of very young mothers. There is also some evidence suggesting that children of very young mothers perform worse in math.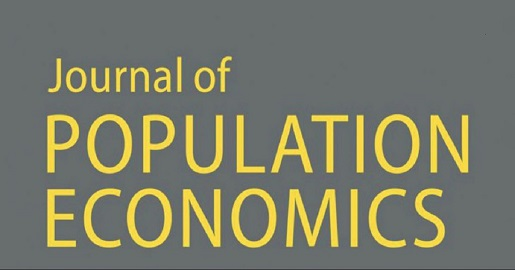 Perez-Alvarez, M., Favara, M.: Children having children: early motherhood and offspring human capital in India.
Journal of Population Economics (March 2023). OPEN ACCESS.
https://doi.org/10.1007/s00148-023-00946-0
Handling JOPE Editor: Terra McKinnish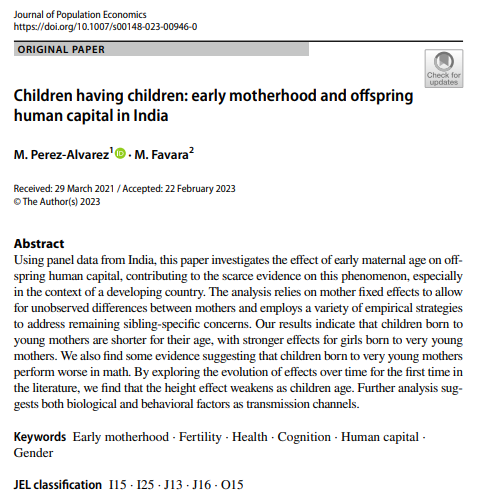 JOPE has CiteScore 6.5 (2021, LINK) & Impact Factor 4.7 (2021, LINK)
Vol. 36, Issue 2, April 2023: Journal of Population Economics (JOPE) 16 articles.
https://link.springer.com/journal/148/volumes-and-issues/36-2
Papers will be presented at the online
JOPE Spring Conference on April 27, 2023. Registration details.
Just published online:
Amuedo-Dorantes, C., Bucheli, J.R.: Implications of restrictive asylum policies: evidence from metering along the U.S.-Mexico Border.
Journal of Population Economics (March 2023). Free to read: https://rdcu.be/datCE
https://doi.org/10.1007/s00148-023-00949-x
Hwang, J., Kim, S.K.: Unexpected longevity, intergenerational policies, and fertility.
Journal of Population Economics (March 2023). OPEN ACCESS.
https://doi.org/10.1007/s00148-023-00943-3
Zhang, X., Zhang, X., Liu, Y. et al.: The morbidity costs of air pollution through the Lens of Health Spending in China.
Journal of Population Economics (March 2023).
https://doi.org/10.1007/s00148-023-00948-y
Link to free read: https://rdcu.be/c9ezp
Schön, M.: Demographic change and the rate of return in pay-as-you-go pension systems.
Journal of Population Economics (March 2023). OPEN ACCESS.
https://doi.org/10.1007/s00148-023-00938-0
Huang, C., Li, C., Liu, F. et al.: Vaccination and risky behaviors: evidence from the hepatitis B vaccination campaign in China. Journal of Population Economics (March 2023).
https://doi.org/10.1007/s00148-023-00942-4
Link to free read: https://rdcu.be/c88yM
Congdon Fors, H., Lindskog, A.: Son preference and education inequalities in India: the role of gender-biased fertility strategies and preferential treatment of boys. Journal of Population Economics (February 2023).
https://doi.org/10.1007/s00148-023-00941-5
OPEN ACCESS
Casarico, A., Del Rey, E. & Silva, J.I.: Child care costs, household liquidity constraints, and gender inequality. Journal of Population Economics (February 2023).
https://doi.org/10.1007/s00148-023-00936-2
OPEN ACCESS
Casarico, A., Lattanzio, S.: Behind the child penalty: understanding what contributes to the labour market costs of motherhood. Journal of Population Economics (February 2023).
https://doi.org/10.1007/s00148-023-00937-1
Link to free read: https://rdcu.be/c5ZFr
Ends;