The paper finds evidence that sodomy law repeals in the US led to a decline in the number of arrests for disorderly conduct, prostitution, and other sex offenses.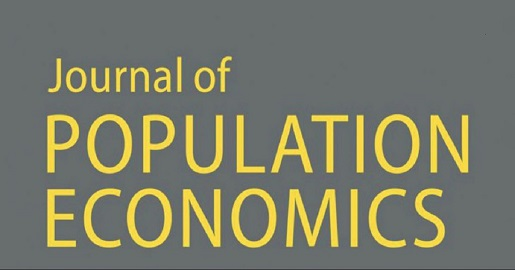 Ciacci, R., Sansone, D. The impact of sodomy law repeals on crime. 
Journal of Population Economics (April 2023). Forthcoming Issue 3/2023.
OPEN ACCESS. https://doi.org/10.1007/s00148-023-00953-1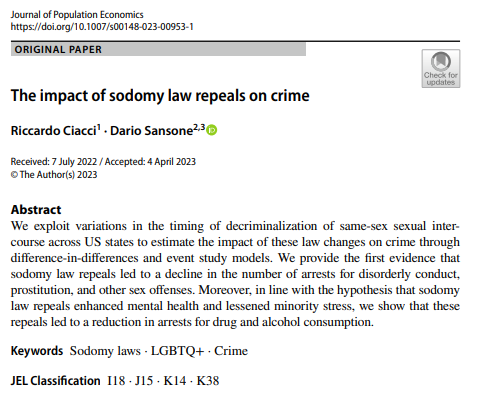 JOPE has CiteScore 6.5 (2021, LINK) & Impact Factor 4.7 (2021, LINK)
Vol. 36, Issue 2, April 2023: Journal of Population Economics (JOPE) 16 articles.
https://link.springer.com/journal/148/volumes-and-issues/36-2
Papers were presented at the online
JOPE Spring Conference on April 27, 2023. Report and video links.
Just published online:
Savcic, R., Theodoropoulos, N. & Xefteris, D.: Conscription and educational outcomes. 
Journal of Population Economics (2023).
https://doi.org/10.1007/s00148-023-00944-2. Free to read: https://rdcu.be/dcBrk

Kovacic, M., Orso, C.E. Who's afraid of immigration? The effect of economic preferences on tolerance. 
Journal of Population Economics (May 2023). OPEN ACCESS.
https://doi.org/10.1007/s00148-023-00947-z
Perez-Alvarez, M., Favara, M.: Children having children: early motherhood and offspring human capital in India.
Journal of Population Economics (March 2023). OPEN ACCESS.
https://doi.org/10.1007/s00148-023-00946-0

Amuedo-Dorantes, C., Bucheli, J.R.: Implications of restrictive asylum policies: evidence from metering along the U.S.-Mexico Border.
Journal of Population Economics (March 2023). Free to read: https://rdcu.be/datCE
https://doi.org/10.1007/s00148-023-00949-x
Ends;