A new paper published online in the Journal of Population Economics finds that railroads affected population growth during the first globalization (1865–1920) in Chile.
The Global Labor Organization (GLO) is an independent, non-partisan and non-governmental organization that functions as an international network and virtual platform to stimulate global research, debate and collaboration.
Railroads, specialization, and population growth: evidence from the first globalization
by Andres Forero, Francisco A. Gallego, Felipe Gonzalez and Matıas Tapia
Published ONLINE: Journal of Population Economics, scheduled for 2021. FREE READLINK

GLO Fellow Francisco A. Gallego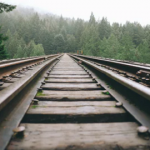 Author Abstract: We explore how railroads affected population growth during the first globalization (1865–1920) in Chile. We look at areas with a strong comparative advantage in agriculture using novel data that document 60 years of railroad construction. Using instrumental variables, we present four main findings. First, railroads increased both urban and rural population growth. Second, the impact was stronger in areas with more potential for agricultural expansion. Third, railroads increased specialization in agriculture when combined with a high level of the real exchange rate. And fourth, railroads had little effect on human capital and fertility. These results suggest that the effects of transportation technologies depend on existing macroeconomic conditions.
Featured image: photo-Paul-Jarvis-on-Unsplash
Access to the recently published Volume 33, Issue 4, October 2020.
LEAD ARTICLE OF ISSUE 4:
Yun Qiu, Xi Chen & Wei Shi, Impacts of social and economic factors on the transmission of coronavirus disease 2019 (COVID-19) in China
Journal of Population Economics 33, 1127–1172 (2020). OPEN ACCESS
Over 29K journal downloads & over 80 Google Scholar cites as of October 26, 2020.

Ends;