On his one-week trip to Beijing/China, Klaus F. Zimmermann, President of the Global Labor Organization (GLO) and Bonn University, arrived on December 5 to participate in a one-day event:
For the Future: International Conference on Vocational Education and Training Development
The event took place in the Conference Center, Beijing International Hotel, Beijing/China. It was hosted by the China Development Research Foundation (CDRF) and The Chinese Society of Technical and Vocational Education (CSTVE) and supervised by the Ministry of Education of the People's Republic of China and the Development Research Center of the State Council.
Next to following an intensive program with over 300 participants, Zimmermann was the Luncheon Keynote Speaker on the topic "Vocational Education & Training: Socio-Economic Sustainable Development".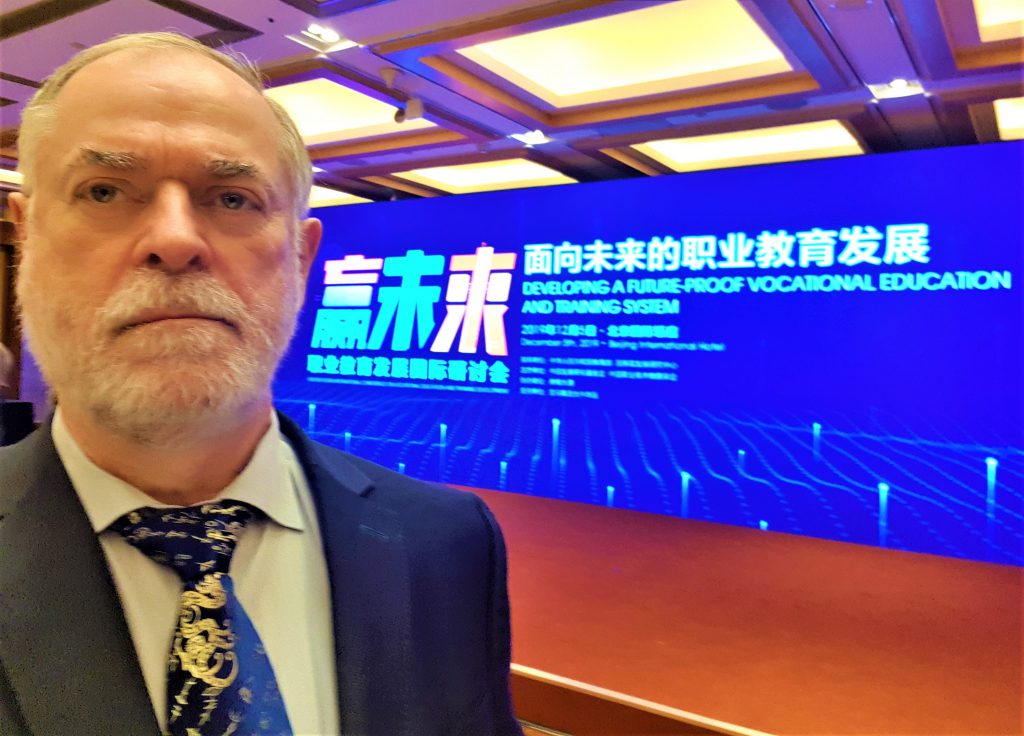 Key topics:
Vocational systems and youth unemployment
A roadmap to vocational education and training
General education versus vocational education
Challenges in the digital age
Central messages:
The Youth-to-Adult Unemployment Ratio of Germany With Its Dual Vocational Training System is Far Below Others in the Western World.
Vocational systems are a valued alternative beyond the core of general education.
Vocational high school graduates have better employment outcomes than general high school graduates.
The dual system is more effective in helping youth transition into employment than alternative academic or vocational training.
In the digital age, ICT skills are obviously important, but success comes with the development of non-cognitive skills.
Selective references:
Klaus F. Zimmermann, Costanza Biavaschi, Werner Eichhorst, Corrado Giulietti, Michael J. Kendzia, Alexander Muravyev, Janneke Pieters, Núria Rodríguez-Planas & Ricarda Schmidl (2013), Youth Unemployment and Vocational Training", Foundations and Trends® in Microeconomics (2013), 9: 1-157.
Werner Eichhorst, Núria Rodríguez-Planas, Ricarda Schmidl & Klaus F. Zimmermann, A Roadmap to Vocational Education and Training in Industrialized Countries, Industrial and Labor Relations Review (2015), 68: 314-337.
Pierre Cahuc, Stéphane Carcillo, Ulf Rinne & Klaus F. Zimmermann, Youth Unemployment in Old Europe: The Polar Cases of France and Germany, IZA Journal of European Labor Studies, (2013), 2:18
Huzeyfe Torun & Semih Tumen, Do Vocational High School Graduates Have Better Employment Qutcomes Than General High School Graduates?, International Journal of Manpower (2019), 40: 1364-1388.
Shubha Jayaram, Tara Hill & Daniel Plaut, Training Models for Employment in the Digital Economy, Results for Development Institute (2013).
Ends;