The GLO Discussion Paper of the Month of September investigates how air quality changed during COVID-19 lockdown policies in Vietnam.
GLO Discussion Papers are research and policy papers of the GLO Network which are widely circulated to encourage discussion. Provided in cooperation with EconStor, a service of the ZBW – Leibniz Information Centre for Economics, GLO Discussion Papers are among others listed in RePEc (see IDEAS, EconPapers). Complete list of all GLO DPs downloadable for free.
GLO Discussion Paper of the Month: September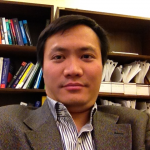 # 647 The Beneficial Impacts of COVID-19 Lockdowns on Air Pollution: Evidence from Vietnam – Download PDF
by Dang, Hai-Anh H. & Trinh, Trong-Anh
GLO Fellow Hai-Anh H. Dang

Author Abstract: Little evidence currently exists on the effects of COVID-19 on air quality in poorer countries, where most air pollution-linked deaths occur. We offer the first study that examines the pandemic's impacts on improving air quality in Vietnam, a lower-middle income country with worsening air pollution. Employing the Regression Discontinuity Design method to analyze a rich database that we compile from satellite air pollution data and data from various other sources, we find the concentration of NO2 to decrease by 24 to 32 percent two weeks after the COVID-19 lockdown. While this finding is robust to different measures of air quality and model specifications, the positive effects of the lockdown appear to dissipate after ten weeks. We also find that mobility restrictions are a potential channel for improved air quality. Finally, our back-of-the-envelope calculations suggest that two weeks after the lockdown, the economic gains from better air quality are roughly $0.6 billion US dollars.
More from the GLO Coronavirus Cluster
GLO Discussion Papers submitted in September 2020
676 The role of foreign direct investment in growth: Spain, 1964-2013 – Download PDF
by Bajo-Rubio, Oscar
675 Nudging Demand for Academic Support Services: Experimental and Structural Evidence from Higher Education – Download PDF
by Pugatch, Todd & Wilson, Nicholas
674 Returns to Education in the Russian Federation: Some New Estimates – Download PDF
by Melianova, Ekaterina & Parandekar, Suhas & Patrinos, Harry Anthony & Volgin, Artëm
673 Motherhood and labor market penalty: a study on Indian labor market – Download PDF
by Sarkhel, Sukanya & Mukherjee, Anirban
672 English Skills and Early Labour Market Integration: Evidence from Humanitarian Migrants in Australia – Download PDF
by Cheng, Zhiming & Wang, Ben Zhe & Jiang, Zhou & Taksa, Lucy & Tani, Massimiliano
671 Welfare Perceptions of the Youth: A Turkish Case Study – Download PDF
by Bagis, Bilal & Yumurtaci, Aynur
670 The Labour Force Status of Transgender People and The Impact of Removing Surgical Requirements to Change Gender on ID Documents – Download PDF
by Mann, Samuel
669 Female Human Capital Mismatch: An extension for the British public sector – Download PDF
by Galanakis, Yannis
668 Educational Mismatches of Newly Hired Workers: Short and Medium-run Effects on Wages – Download PDF
by Araújo, Isabel & Carneiro, Anabela
667 An Economic Model of Health-vs-Wealth Prioritization during Covid-19: Optimal Lockdown, Network Centrality, and Segregation – Download PDF
by Pongou, Roland & Tchuente, Guy & Tondji, Jean-Baptiste
666 Does Obamacare Care? A Fuzzy Difference-in-Discontinuities Approach – Download PDF
by Galindo-Silva, Hector & Somé, Nibene Habib & Tchuente, Guy
665 Access to Finance among Small and Medium-Sized Enterprises and Job Creation in Africa – Download PDF
by Brixiová, Zuzana & Kangoye, Thierry & Yogo, Thierry Urbain
664 Non-Standard Employment and Wage Differences across Gender: a quantile regression approach – Download PDF
by Duman, Anil
663 The Unequal Impact of Natural Light on Crime – Download PDF
by Tealde, Emiliano
662 Labor Market Effects of a Work-first Policy for Refugees – Download PDF
by Arendt, Jacob Nielsen
661 COVID-19 labour market shocks and their inequality implications for financial wellbeing – Download PDF
by Botha, Ferdi & de New, John P. & de New, Sonja C. & Ribar, David C. & Salamanca, Nicolás
660 A strictly economic explanation of gender roles: The lasting legacy of the plough – Download PDF
by Cigno, Alessandro
659 International Trade and Labor Market Integration of Immigrants – Download PDF
by Lodefalk, Magnus & Sjöholm, Fredrik & Tang, Aili
658 Measuring Gender Attitudes Using List Experiments – Download PDF
by Asadullah, M Niaz & De Cao, Elisabetta & Khatoon, Fathema Zhura & Siddique, Zahra
657 Trade and Economic Growth: Theories and Evidence from the Southern African Development Community – Download PDF
by Farahane, Matias Jaime & Heshmati, Almas
656 The Extractive Industry's impact on Economic Growth in SADC Countries – Download PDF
by Nhabinde, Simeão & Heshmati, Almas
655 Pay Gaps and Mobility for Lower and Upper Tier Informal Sector Employees: an investigation of the Turkish labor market – Download PDF
by Duman, Anil
654 Long Live the Vacancy – Download PDF
by Haefke, Christian & Reiter, Michael
653 Impacts of COVID-19 on Food Security: Panel Data Evidence from Nigeria – Download PDF
by Amare, Mulubrhan & Abay, Kibrom A. & Tiberti, Luca & Chamberlin, Jordan
652 Unemployment, Immigration, and Populism: Evidence from Two Quasi-Natural Experiments in the United States – Download PDF
by Chen, Shuai
651 Education-occupation mismatch and dispersion in returns to education: Evidence from India – Download PDF
by Grover, Shweta & Sharma, Ajay
650 Canadian Small Businesses' Employees and Owners during COVID-19 – Download PDF
by Beland, Louis-Philippe & Fakorede, Oluwatobi & Mikola, Derek
649 Heterogeneous Shocks in the Covid-19 Pandemic: Panel Evidence from Italian Firms – Download PDF
by Brancati, Emanuele & Brancati, Raffaele
648 The role of innovation in industrial dynamics and productivity growth: a survey of the literature – Download PDF
by Ugur, Mehment & Vivarelli, Marco
647 The Beneficial Impacts of COVID-19 Lockdowns on Air Pollution: Evidence from Vietnam – Download PDF
by Dang, Hai-Anh H. & Trinh, Trong-Anh
646 The effect of job search requirements on welfare receipt – Download PDF
by Hérault, Nicolas & Vu, Ha & Wilkins, Roger
GLO DP Team
Senior Editors: Matloob Piracha (University of Kent) & GLO; Klaus F. Zimmermann (UNU-MERIT, Maastricht University and Bonn University).
Managing Editor: Magdalena Ulceluse, University of Groningen. DP@glabor.org
DP of the Month September
Ends;