The paper finds that an increase (reduction) in the average length of (peacetime) army service has a positive (negative) and significant effect on men's academic performance.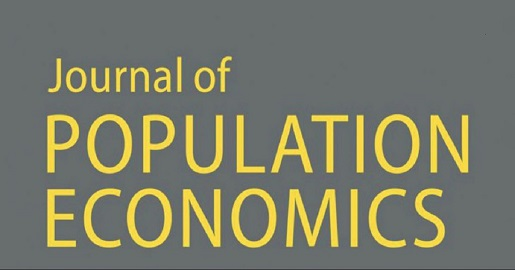 Savcic, R., Theodoropoulos, N. & Xefteris, D.: Conscription and educational outcomes.
Journal of Population Economics (2023). Forthcoming issue 4/2023.
https://doi.org/10.1007/s00148-023-00944-2. Free to read: https://rdcu.be/dcBrk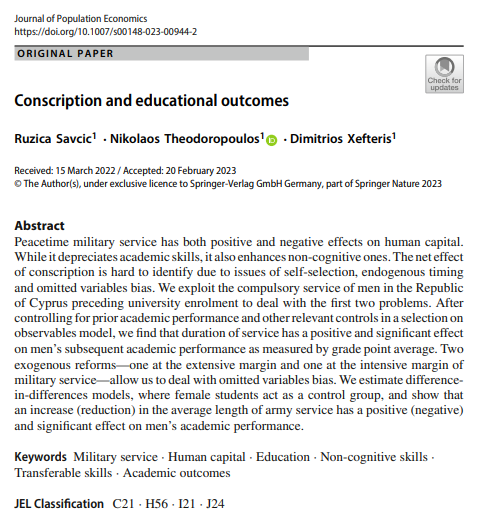 JOPE has CiteScore 6.5 (2021, LINK) & Impact Factor 4.7 (2021, LINK)
Vol. 36, Issue 2, April 2023: Journal of Population Economics (JOPE) 16 articles.
https://link.springer.com/journal/148/volumes-and-issues/36-2
Papers were presented at the online
JOPE Spring Conference on April 27, 2023. Report and video links.
Just published online:
Kovacic, M., Orso, C.E. Who's afraid of immigration? The effect of economic preferences on tolerance.
Journal of Population Economics (May 2023). OPEN ACCESS.
https://doi.org/10.1007/s00148-023-00947-z
Ciacci, R., Sansone, D. The impact of sodomy law repeals on crime.
Journal of Population Economics (April 2023). OPEN ACCESS.
https://doi.org/10.1007/s00148-023-00953-1
Perez-Alvarez, M., Favara, M.: Children having children: early motherhood and offspring human capital in India.
Journal of Population Economics (March 2023). OPEN ACCESS.
https://doi.org/10.1007/s00148-023-00946-0

Amuedo-Dorantes, C., Bucheli, J.R.: Implications of restrictive asylum policies: evidence from metering along the U.S.-Mexico Border.
Journal of Population Economics (March 2023). Free to read: https://rdcu.be/datCE
https://doi.org/10.1007/s00148-023-00949-x
Ends;