February 24, 2023: "The Russian invasion of Ukraine has evolved from a 'military special operation' into a protracted brutal war. It divides the larger world, far beyond Europe, endangering further progress in the path of humanity. The belief that economic prosperity on all sides is the best guarantee for peace in Europe turned out to be an illusion. Europe needs to invest much more in military strength. Countries have the undisputable right to live in secure borders. Ukraine therefore needs to win this war. As part of the European family, the country has to become a member of the EU and be part of an effective military security system."
February 28, 2022: "The current tragedy in Europe marks some of the darkest days on this continent since WWII. It has made us speechless for a few days and upset. We deeply feel with the people and express the strongest solidarity on all levels possible. The world has changed, and so do policies. With the huge global long-term implications of this conflict, globalization, international understanding and collaborations remain key for the future wellbeing of the world. We need to strongly continue our efforts. The Ukraine deserves EU membership as part of any political solution."
Klaus F. Zimmermann (2022). "Zeitenwende und die Schatten der Geschichte. Implikationen für wissenschaftliche Kooperationen in der 'herausgeforderten' Globalisierung." Vierteljahrshefte zur Wirtschaftsforschung 91 (4), 57-66. Pre-publication version. Published, journal website.
English abstract
For years, the promotion of international scientific cooperation was considered the silver bullet of research policy. The Russian war of aggression and the resulting global polarization has undoubtedly increased the need to keep a closer eye on conflicts of interest and violations of ethical principles. Scientific diplomacy remains important and is needed. The central challenges of the world are of a global nature, they can therefore only be successfully tackled through international cooperation. Economic mechanisms (e. g. the advantages of the division of labor) favor globalization, and its power cannot be ignored in the long run. Science is also a public good, so it has to be organized internationally. In the future, however, there will be even more scientific cooperation between the states of the "New West". The instruments of scientific cooperation remain unchanged. However, they will inevitably have a stronger regional focus and be more deeply politically anchored. The forthcoming more intense political regulations may cause conflicts of interest with the principle of independence of science. Although policymakers will have more guidelines for their scientific advisors, their international cooperation will continue to make a significant contribution to the quality of scientific advice.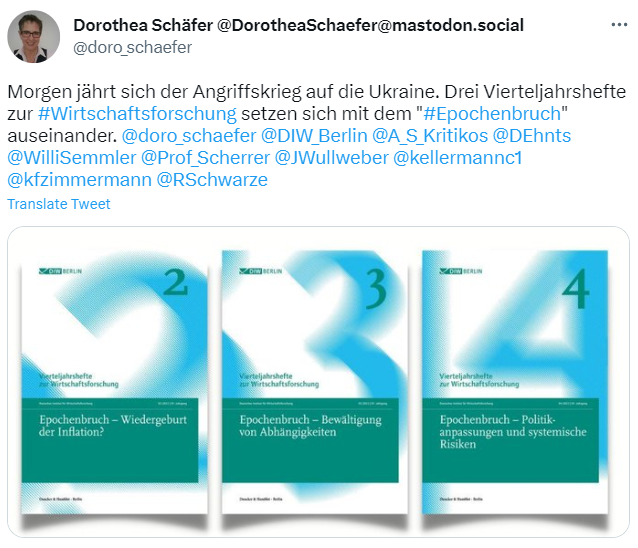 RESEARCH freely accessible through the provided links.
Research from better times on the Ukraine: (i) 2013 – 2014 on the EaP countries undertaken for the EU commission and (ii) work on the Ukrainian Longitudinal Monitoring Survey. IZA's Founding Director Klaus F. Zimmermann was a co-leader of this research and supported the creation of the survey.
Eastern Partnership Migrants in Germany: Outcomes, Potentials and Challenges; IZA Journal of European Labor Studies, 3:7 (2014); Costanza Biavaschi & Klaus F. Zimmermann
"We find that EaP migrants experience worse labor market outcomes than other migrant groups, but current and potential migrants hold qualifications in those areas were skill shortages are expected."
Labour Migration from EaP Countries to the EU – Assessment of Costs and Benefits and Proposals for Better Labour Market Matching; IZA Research Report, No. 56, Bonn 2013 (164 pages); Martin Kahanec, Klaus F. Zimmermann, Lucia Kureková & Costanza Biavaschi
"The report points out that policy intervention needs to go beyond migration policy alone in order to achieve better labour market matching and to bring most benefits and least costs to receiving countries, sending countries and migrants."
Migration from the Eastern Partnership Countries to the European Union — Options for a Better Future; IZA Research Report, No. 55, Bonn 2013 (50 pages); Luca Barbone, Martin Kahanec, Lucia Kureková & Klaus F. Zimmermann
"As a result of the analysis and findings of this project, we propose a gradual liberalisation of mobility between the European Union and the Eastern Partnership countries as a first-best policy alternative."
The Ukrainian Longitudinal Monitoring Survey: Towards a Better Understanding of Labor Markets in Transition; IZA Journal of Labor and Development, 1:9 (2012); Hartmut Lehmann, Alexander Muravyev & Klaus F. Zimmermann
"The paper presents the Ukrainian Longitudinal Monitoring Survey (ULMS), which is one of the most widely used household and labor force surveys in Eastern Europe."
The Russian-Ukrainian Earnings Divide; Economics of Transition, 20 (2012), pp. 1-35; Amelie F. Constant, Martin Kahanec & Klaus F. Zimmermann
"we find a persistent and increasing labour market divide between ethnic Russians and Ukrainians throughout Ukraine's transition era. We establish that language, rather than nationality, is the key factor behind this ethnic premium favouring Russians."
The Russian-Ukrainian Political Divide; Eastern European Economics, 49 (2011), pp. 97-109; Amelie F. Constant, Martin Kahanec & Klaus F. Zimmermann
"Analysis using unique micro data collected prior to the revolution finds that voting preferences for the forces of the forthcoming Orange Revolution were strongly driven by preferences for political and economic reforms but were also independently significantly affected by ethnicity, specifically, language and nationality. Russian speakers, as opposed to Ukrainian speakers, were significantly less likely to vote for the Orange Revolution, and nationality had similar effects."
***
2017: Keynote of Zimmermann on "Migration & Wellbeing" at an International Conference in Kyiv: Info-Link

Ends;