The article finds in a careful twin study with data from sub-Saharan Africa that family size has no negative effects on schooling of the children.
Read more in:
Sahawal Alidou & Marijke Verpoorten
Family size and schooling in sub-Saharan Africa: testing the quantity-quality trade-off
Journal of Population Economics, Vol. 32 (2019), Issue 4 (October), pp. 1353-1399.
Journal Website, complete issue 4.
Author Abstract: Many family planning programs are based on the idea that small families lead to improved development outcomes, such as more schooling for children. Because of endogeneity issues, this idea is however difficult to verify. A handful of studies have made use of twin birth to deal with the endogeneity of family size. We do so for sub-Saharan African countries. In a compilation of 86 survey rounds from 34 countries, we exploit the birth of twins to study the effect of a quasi-exogenous increase in family size on the schooling of children at the first, second and third birth order. Our findings do not support the generally assumed negative effect of family size on schooling.
Read also the Lead Article of issue 4 (2019):
Gautam Hazarika, Chandan Kumar & Sudipta Sarangi:
"Ancestral ecological endowments and missing women"
Journal of Population Economics, Vol. 32 (2019), Issue 4 (October), pp. 1101-1123
Journal Website, complete issue 4. Paper PDF – OPEN ACCESS.
GLO Fellows Gautam Hazarika, Chandan Kumar Jha & Sudipta Sarangi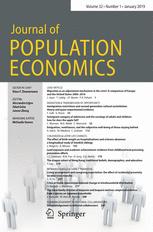 Ends;