How I got the jab. Jetzt hat es geklappt.
Überraschend waren ab 3. April in Nordrhein-Westfalen (NRW) ca. 450.000 AstraZeneca Impfdosen für das Wochenende für Über-60-Jährige verfügbar. Eine schöne Osterüberraschung. Natürlich sinnvoll, sich sofort zur Verfügung zu stellen. Klar, daß das Ei zunächst gesucht werden mußte.
Nach regelmäßigen Versuchen über acht Stunden gelang die Terminvereinbarung noch am gleichen Tag. Sicher Glück angesichts des Massenansturms, der sich mit technischem Mißgeschick verband. Nun zahlte sich aus, daß man als erprobter Wanderer in den Online-Welten über geschulte Geduld und Routine verfügt.
Prima, daß dies trotz der zu erwartenden Schwierigkeiten in Angriff genommen wurde! Wir müssen das Virus rasch unter Kontrolle bekommen. Wir sollten froh sein, auf AstraZeneca zurückgreifen zu können. Der Ablauf im Bonner Impfzentrum war harmlos und ohne Nebenwirkungen auch am Folgemorgen.
Back: Three months later/Drei Monate später…..
Bonn, April 4, 2021. 2.15 pm.
Waiting for the AstraZeneca jab: scheduled for the early evening that day.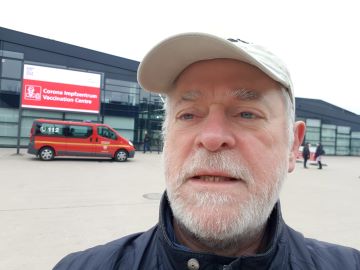 Bonn January 5, 2021. 2.15 pm.
In front of the Covid-19 Vaccination Centre Bonn, which is placed in the Bonn World Conference Center.
All closed. Alles zu….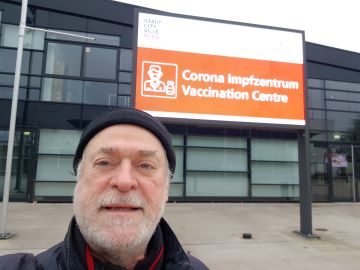 Ends;