The well attended research seminar on March 13 (about 60 participants) of Zimmermann on "Pushing the Research Frontier on Labor and Human Resource Issues: Introducing the Global Labor Organization (GLO)" was introduced and chaired by the Dean of the Faculty of Economics & Administration, Prof. Rohana Binti Jani.

Zimmermann stressed the importance of establishing and developing academic networks for the progress of the discipline and the needed publication success. He explained the functioning of the Global Labor Organization. The regular UM – GLO Research Seminars were established in Summer 2018.
The GLO is an international, independent, non-partisan and non-governmental organization that has no institutional position. It deals with the the challenges and benefits of globalization and international collaborations and functions as a global network and virtual platform for researchers, policy makers, practitioners and the general public interested in scientific research and its policy and societal implications on global labor markets, demographic challenges and human resources.
UM requires from staff regular publications in good research journals. GLO Fellow and UM Prof. M. Niaz Asadullah introduced the GLO South-East- Asia Research Cluster he is successfully leading.
Zimmermann in front of his office.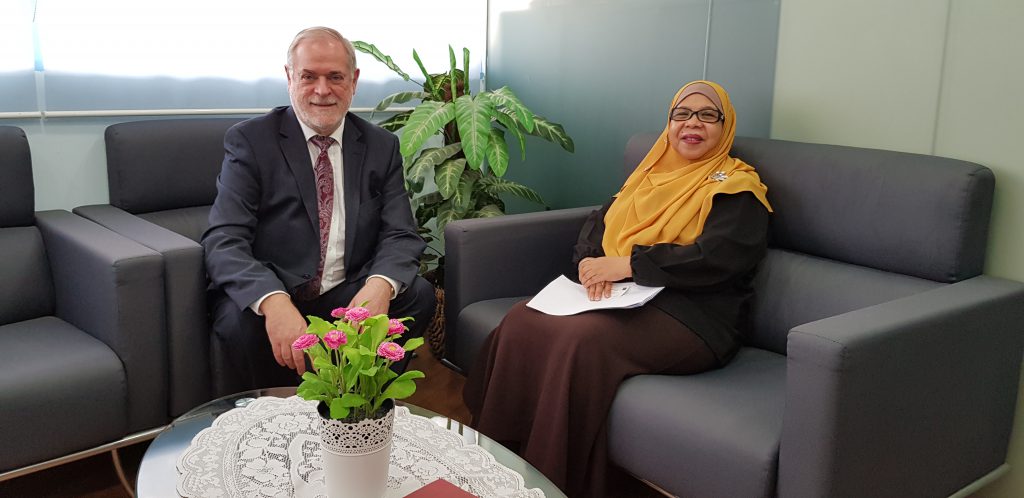 Ends;