GLO Fellow Colin Cannonier, Associate Professor at Belmont University, has been appointed GLO Country Lead for St. Kitts and Nevis (a dual-island nation between the Atlantic Ocean and Caribbean Sea), where he is a frequent advisor to the government. In 2019, he had delivered a prestigious lecture as the featured speaker at the Annual Prime Minister's Independence Lecture Series.
His research focus is in applied economics with emphasis in health, labor, education, and how they intersect with public policy and economic development.
He has authored several peer-reviewed articles in scholarly journals such as Economics of Education Review, Journal of Labor Research, Review of Economics of the Household, and Journal of Demographic Economics.
GLO Fellow Colin Cannonier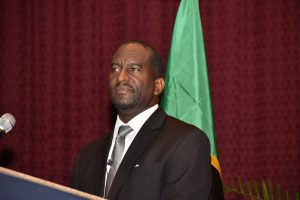 Left: Colin Cannonier during his 2019 Annual Prime Minister's Independence Lecture
Right: St. Kitts and Nevis thanks to mapsland.com
Ends;