The Institute for Economic and Social Research (IESR) at Jinan University and the Global Labor Organization (GLO) are jointly organizing the Fourth IESR-GLO Virtual Conference. The conference this year will be held from June 24 (Thursday) to June 26 (Saturday), 2021 through Zoom. The theme is Social Safety Net and Welfare Programs. Robert Moffitt and Timothy Smeeding are the keynote speakers. To register see below.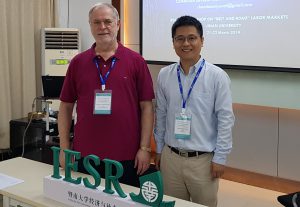 The IESR-GLO annual conference is aimed to provide a platform for scholars and experts to exchange ideas on the current pressing economic issues through presentations of high-quality academic papers and policy discussions. Previous IESR-GLO Conferences have covered topics such as the Economics of Covid-19 in 2020 and on the Labor Markets in Belt and Road countries in 2019. (Feng of IESR right & Zimmermann of GLO left)
No participation fee. For registration, please click the link:
https://www.wjx.cn/vj/mKRDcqR.aspx

FULL CONFERENCE PROGRAM PDF & ON THE GLO WEBSITE.
Program of Day 1 (June 24)
8.00-11.05 pm Beijing Time / 8:00-11.05 am New York / 1:00-4:05 pm London
JUNE 24 (Thursday). Chair: Sen Xue (IESR, Jinan University & GLO)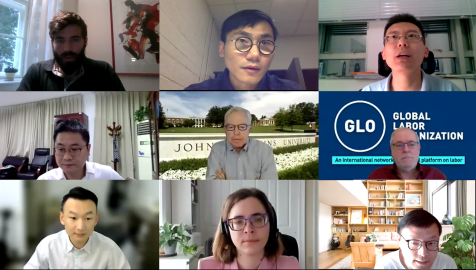 8.00-8.05 pm Beijing Time / 8:00-8.05 am New York / 1:00-1:05 pm London
Opening Remarks by Shuaizhang Feng (IESR, Jinan University & GLO) & Klaus F. Zimmermann (UNU-MERIT, Maastricht University & GLO)

8.05-9.05 pm Beijing Time / 8:05-9.05 am New York / 1:05-2:05 pm London
Keynote Lecture: Take-up in Social Assistance Programs: Theory and Evidence
Keynote Speaker: Robert Moffitt (Johns Hopkins University)

9.05-9.35 pm Beijing Time / 9:05-9.35 am New York / 2:05-2:35 pm London
The Power of Lakshmi: Monetary Incentives for Raising a Girl
Nabaneeta Biswas (Marshall University), Christopher Cornwell (University of Georgia) & Laura V. Zimmermann (University of Georgia & GLO)

9.35-10.05 pm Beijing Time / 9:35-10.05 am New York / 2:35-3:05 pm London
Grandfathers and Grandsons: Social Security Expansion and Child Health in China
Jinyuan Yang (Virginia Tech) & Xi Chen (Yale University & GLO)

10.05-10.35 pm Beijing Time / 10:05-10.35 am New York / 3:05-3:35 pm London
Trapped in inactivity? Social Assistance and Labour Supply in Austria
Michael Christl (European Commission & GLO) & Silvia De Poli (European Commission)

10.35-11.05 pm Beijing Time / 10:35-11.05 am New York / 3:35-4:05 pm London
Does Paid Family Leave Save Infant Lives? Evidence from California
Feng Chen (Tulane University & GLO)
Institute for Economic and Social Research, Jinan University
Global Labor Organization
Klaus F. Zimmermann, GLO
Shuaizhang Feng, Jinan University
Sen Xue, Jinan University
For inquiries regarding the conference, please contact Sen Xue at sen.xue@jnu.edu.cn. General inquiries should be directed to iesrjnu@gmail.com.

IESR Conference Website
Ends;